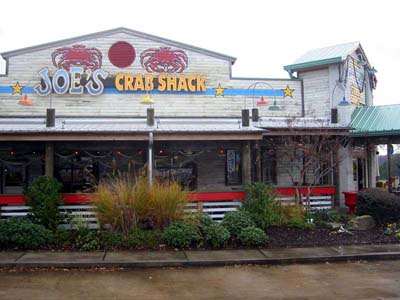 Stella is a lot like Red from Shawshank, she knows how to get things. In this case she got a coupon for a free
steampot
from
Joe's Crab Shack
. I don't ask questions, I just assume everything is above board and legal and I take part in the free goods. I honestly think that half of my kids' clothing "falls off the back of a truck".
So we had a couple of hours sans children to get our crab on and we had to be in Olathe anyway. We had the perfect variables for dinner at Joe's Crab Shack.
When I first moved to KC from Wichita in 2001, I regularly ate at Joe's. Wichitans love them some chain restaurant food and I loved Joe's because they had the perfect dish for me called the Key West Combo. The Key West Combo featured their jalapeno poppers stuffed with crab, crab balls, fried clams and french fries, all for $7.99. It was a wonderful meal, chain or no chain, Joe's has the best jalapeno poppers in town. Then one day I went in and they no longer had the Key West Combo. I had to choose between full orders of the poppers or the crab balls (or some other entree). It was just too much for me to take and I think I've been to Joe's twice since the Key West Slaughter of '02.
When we walked in, I was shocked that it hadn't changed at all. They still sell the schticky t-shirts that I always thought
Wes Port
would love. We were seated in the bar area in one of those c-shaped booths like they have at
Manifesto
(but it's not private enough to whip it out). Stella ordered the classic steampot (dungeness crab, Alaskan snow crab, shrimp, smoked sausage, corn and potatoes) and I got the Orleans (crawfish, andouille, shrimp, corn and potatoes). I haven't had crawfish since I lived in Wichita when my friends and I used to go to this place called Brews Brothers (a now defunct cajun restaurant and beer bar) and eat pounds of crawfish, boudin, scotch eggs and jambalaya while drinking the best microbrews available in the late 90's. Stella doesn't care to eat the cockroachy (in her words) looking crawfish so I don't even know where in town I can get some.
The waiter brought us out the special bibs (with a coupon code that you can try to win a free steampot, you can get a code
here
, just keep trying it until you get the free steampot). I put mine on because how often do I get to wear a bib, Stella decided to big league it and just take her chances.
What we got was a big steampot like you might find at your grandma's house full of shellfish. Of course, the challenge then becomes getting the meat out. You're going to get dirty eating these things. To make it even more challenging the Orleans pot is covered in a cajun seasoning, your hands had better be as free from cuts and lesions as a john's crotch in a Nevada whorehouse or you're going to have an unpleasant experience.
Nary a word was spoken as Stella and I were cracking shells and getting the meat out. I spent a good amount of time sucking the heads (now that I'm married to a woman, this is the only time I get to suck heads) of crawfish. I went Medieval on my pot and just grabbed the sausage with my hands and ate it rather than picking up the knife and fork. It's good to get your hands dirty when eating every once in a while.
Dirty hands
At the end of the meal, we were both a little tired from breaking shells but were filled up so the effort was worth it. My crawfish were tasty. The shrimp were good and the sausage was average. The best part of the meal was the parts covered in the cajun seasoning, once I got to the bottom half of the pot and the seasoning was wiped off my fingers, the shrimp didn't have much flavor. If I would have had the seasoning on the table this wouldn't have been a problem. Stella's crabs were great and she enjoyed every part of hers but the shrimp which she deemed tasteless.
The steampots range from $17.99 for the Orleans to $34.99 for the Bean Town Bake which includes two whole lobsters. Most of the steampots are $20.99 though. They have 6 different ones to choose from and they all sound pretty good. I'm looking to go back and get one with crab in it. For all it's schtick and everything, Joe's is pretty enjoyable and has at least one entree that's pretty great, the steampot.