As I drove past an Arby's tonight, I thought to myself what sequence of events would have to occur to drive me to eat at Arby's. An hour and a half later and I'm still trying to figure it out. Even the promise of a
free roast burger
doesn't make me wish to go.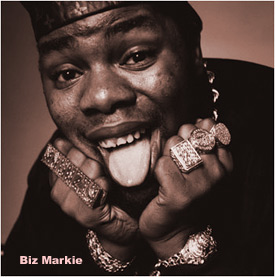 This got me to thinking, what is the worst fast food restaurant around. I think Arby's is the only one in these parts that I absolutely postitively won't patron. Do people feel the same way about Hardee's or Burger King? Taco Bell can be pretty wretched, I don't have fond memories of Boston Market but their cornbread is pretty good. Fazoli's sure doesn't do much for me, but I do like their breadsticks. Maybe some, like my wife, really hate Long John Silver's, but I consider it a guilty pleasure. The best I can come up with is Church's which makes the least edible fried chicken ever, I've never known chicken that doesn't surrender to the tooth. But, I think if I had to choose between felating Biz Markie or eating Church's, I think I could choke down some Church's.
Given the same choice with Arby's, I think I would be choking down Mr Markie's meat.